At Noosa Arts and Crafts Association, we have a wide variety of art and craft activity groups which meet in our home base of Wallace House in Noosa. We welcome experienced artists and craftspeople, as well as those wishing to learn. There is a wealth of knowledge to be shared amongst our members! So, if you are looking for a new creative experience and to meet some friendly, like-minded people, join one of our activity groups. When you become a member of the association, you have access to all these activities! Suitable for local residents or those visiting the area for an extended period.
Ceramics
All types
The ceramic studio is open Monday to Saturday
9am - 4pm
Book & Papermaking
2nd & 4th Monday 9am - noon
Boomerang Bags
Every Monday
9am - noon.
Noosa Writers & Novelists
Every Monday
9.30am - 12.30pm
Pen, Pencil, Pastel & Paint
Every Monday
9.30am - 12.30pm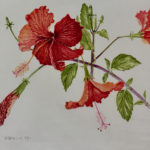 Botanical Art
Every Monday
1pm - 4pm
Watercolour
Every Monday
1pm - 4pm
Ceramics
All types
The ceramic studio is open Monday to Saturday
9am - 4pm
Quilting/
Fibre Arts
Every Tuesday
9am - 1pm
Porcelain Art
Every Tuesday
9am - noon
Charity Quilting
4th Tuesday
1pm - 3pm
Mosaics
Every Tuesday
1pm - 4pm
Chinese brush painting
Every Tuesday
2pm - 4pm
Ceramics
All types
The ceramic studio is open Monday to Saturday
9am - 4pm
Boomerang Bags
Every Wednesday
9am - noon
Smocking
2nd & 4th Wednesday
9am - noon
Life Drawing
Every Wednesday
9am - noon
Crochet
Every Wednesday
9am - noon
Watercolour
Every Wednesday
1pm - 4pm
Ceramics
All types
The ceramic studio is open Monday to Saturday
9am - 4pm
Oils & Acrylics
Every Thursday
9am - noon
Knitting, Spinning & Weaving
2nd & 4th Thursday
9am - noon
Pressgang/
Printmakers
Every Thursday
9am - 1pm
Scrapbooking
Every Thursday
1pm - 4pm
Beading
1st & 3rd Thursday
1pm - 4pm
Haiku Study Group
4th Thursday
1pm - 3.30pm
Creative Artists
Every Thursday
1pm - 4pm
Quilting
Every Thursday
6.30pm - 9.30pm
Ceramics
All types
The ceramic studio is open Monday to Saturday
9am - 4pm
Pastels
Every Friday
9am - noon
Embroidery
1st & 3rd Friday
9.30am - 1pm

Crochet
Every Friday
9am - noon
Acrylics
Every Friday 1pm - 4pm
Ceramics
The ceramic studio is open Monday to Saturday
9am - 4pm
Crochet
Every Saturday
9.30am - 11.30am