Commemorating the 250th Anniversary of Cook's Voyage of Discovery
In 2019 and 2020, botanic gardens and arboreta throughout Australia and New Zealand will commemorate the anniversary Voyage of Discovery by Captain James Cook in the  Endeavour during which Joseph Banks and Daniel Solander made a comprehensive collection of flora. Cook mapped the entire coastline of New Zealand in 1769 before traversing the east coast of Australia in 1770 from Point Hicks to Cape York. 
Pressings of over 520 new taxa unknown to western science were collected along the route up the east coast of Australia and these, along with thousands of botanical illustrations, somehow made it back to England in the face of shipwreck, waterlogging and the dank and humid conditions below decks. 
The rich abundance of diverse flora excited the botanic world and ultimately led to the settlement of the new colony. 2019 in New Zealand and 2020 in Australia marks the 250th anniversary of these flora discoveries by western science. 
oFor more information about this anniversary – please read this article – Botanic-Endeavour-250-2019-2020
Our Botanical Art Group had planned to have an exhibition this year but this was curtailed owing to COVID-19 Pandemic. They decided that they would have this exhibition online and below you will see the intricate artworks of the members of the group.
If you are interesting on purchasing any of the paintings in this exhibition – these will be available for purchase in our Wattle Studio Shop online from May 18, 2020.
Mollie McCloskey is an enthusiastic and talented founder member of this Botanical Art Group at Noosa Arts & Crafts. Mollie uses all media in her art work but her passion is for watercolour. Mollie has won awards and her detailed plant artworks have been incorporated into botanical books.
Annelise Howes is an award winning wildlife artist working in oil, acrylic & pastel who has branched out to include botanical works in watercolour, continuing to include Australian wildlife with flora.
Gabi Dick is a life member and a former President of NSACA. She is active member of Botanical art, Bookbinding, Printmaking and Creative artists groups. Below are just a few of native plants that have attracted her paint brush. Click on each image to see it in full screen.
Lyn Nothdurft and Jan Tabler are enthusiastic and talented members of another local botanical art group – they also lost the opportunity to display their work for this important anniversary owing to this COVID-19 pandemic. We are pleased to welcome them to our online exhibition.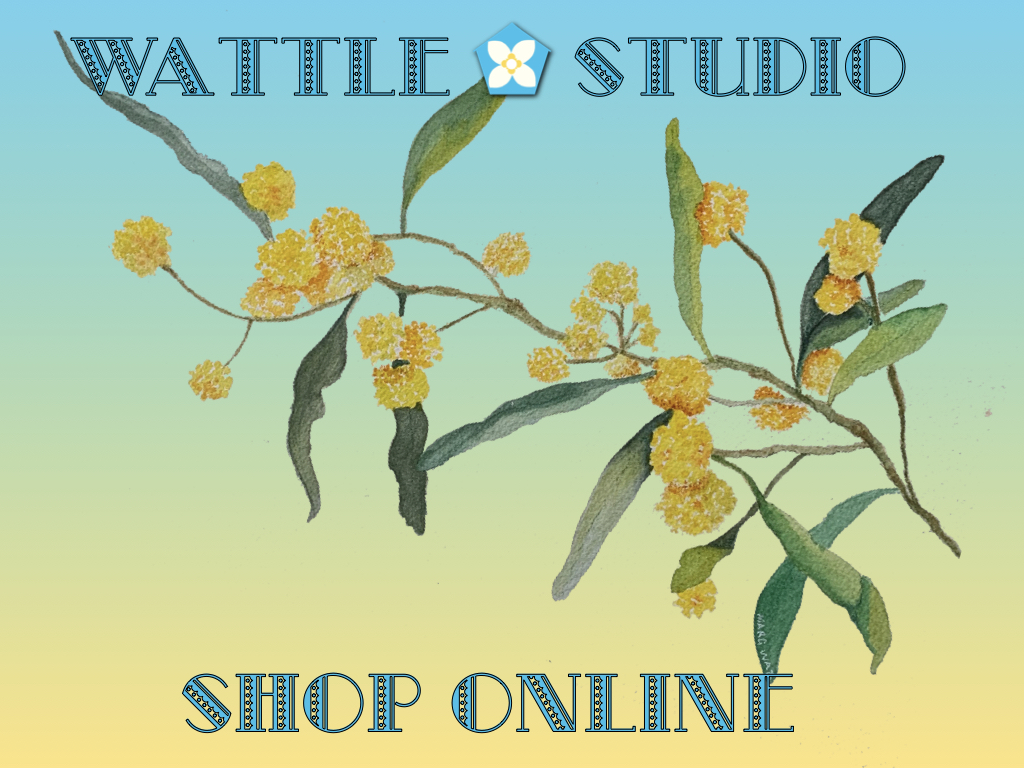 Wattle Studio Shop Online
All the artworks that are for sale in this Exhibition are now online for you to purchase - pick up only.