Welcome to our 2023 Committee
President – Jan Bentley
Erica Aronsten (Vice President), Fran Bate (Secretary), Gabi Dick (Treasurer & workshops)).
General Committee:
Jenny Blyth (House), Zana Dare (Exhibitions), Sally Heron (Shop), Dave Gilbert (Membership), and Lynne Saunders (Marketing).
BEST WISHES FOR A SUCCESSFUL 2023!
Celebrating 30 years of Creativity – 1993 – 2023
1993 was the year in which Noosa Shire Arts & Crafts Association Inc. moved into Wallace House. The house was built in 1931 and is steeped in history. Below is a short history of the house if are interested in how it became to be our home.
We now have our own, specially-designed logo for Noosa Arts & Crafts. In previous years, we have used a variety of symbols for our Association which included an ink drawing of Wallace House, a square logo, and a hand-painted design, an NSACA design for FaceBook and the first version of the present logo. 
We used the colours of Noosa with blue sea and sky with the yellow sun and sand. The flower in the centre is a hand-drawn representation of the boronia keyii flower which is native to the Noosa area. The pentagon represents our home – Wallace House – a heritage Queenslander set in Wallace Park in Noosaville.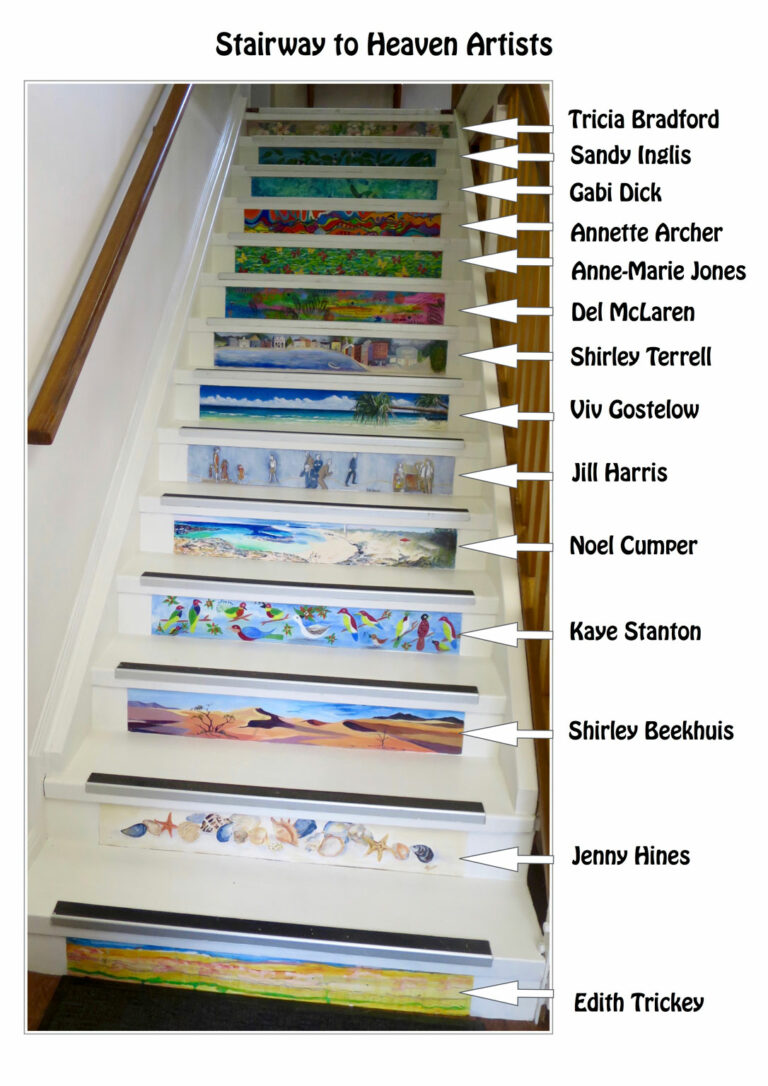 This staircase was decorated at the end of 2015 by our members (names as shown) and the stairs have been painted and cleaned numerous times but it still looks amazing. Thank you  members for your lasting artwork!